Skip to:
Introduction
Purpose
Navigation
Presentation/Layout
Making the Outline
Introduction
As you begin to design a new website, it's best to start off with some planning. First of all you should have a general outline of the purpose of your website, how the navigation will be lain out and the the design. You don't have to make anything too detailed, since you're probably not going to be able to follow your outline as is. In this article I'll touch base on three important parts that should be included in your outline. The first will be the purpose, next the design of the navigation and finally the presentation.
Purpose
Well this point should be pretty easy. What do you want to make your website about? Now then think about who you want to visit your website. Remember you should try to think of people that are going to want to read, see or buy what ever you have on the site. For example, if you're making a site on sports, narrow down what type of person will want to go to your site by what you are going to have in it. If you have general information about various sports, it would be helpful to people who might be about to join a certain sport and have no idea what to expect. So you might try to cater to them or another group of people that you can think of. Also you should take note of the form that your going to present your information. Are you going to write articles, tutorials, show pictures, videos, etc to get your objective across? Once you've finished thinking about all that write it down and move on to the next step.
Navigation
This is probably the most important part of planning your website. If your navigation system is too cumbersome, then no one is going to go through the trouble of visiting your site. When developing your navigation you must make 2 decisions. The first is what you're going to use to link to each page and the second is how the links will be arranged. You can use text links, buttons, pop-ups, frames, iframes or a slew of other systems to link to other pages. Next you have to choose the organization structure. The three major organization structures are linear, hierarchy, and random. Most sites generally use a combination of all three types.
Linear
Linear navigation is where one page links to just one other page. It's similar to how a PowerPoint presentation works. This type of website is best for online comic book sites and presentations.

Hierarchy
A hierarchy structure is when one page links to a few pages which in turn link to several others. For example major directory sites uses an hierarchy structure to categorize websites. This system is best suited for directories, information websites (depending on the size of the site) and certain shopping sites.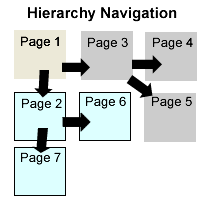 Random
A random navigation structure is one where you can get to any page on the entire website from any page on the website. This system is best for search engines and smaller websites. However, keep in mind that a small search function is a nice addition to nearly any website.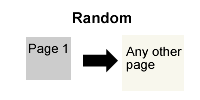 Presentation/Layout
A nice well planned website design adds so much credibility and makes the site a lot easier to use. If you plan on designing your own website, try to choose a uniform color scheme. Don't go over the board with it, though. Try to choose colors that match or complement each other. If you're not good at choosing clothes that match, you probably going to have issues choosing an appealing color scheme. So, be sure to run your decision by one of your friends before going through with it. Also try to keep your design consistent. It's best just to use the same design for every single page so that it won't confuse the users. If you don't like having things the same on each page, make it so that your entire website has a recognizable reoccurring theme, like a logo or a mascot. Also try to keep in mind your abilities at web designing. Don't try to make anything too complicated or else you might get a bit discouraged.
Related article: the structure of a webpage
Making the outline
Okay, now then you have all the basic information that is needed to make a design document. Type it all up, print it out, draw the design and volia. You have a basic plan to building your website. For a sample outline click here (JPG image 705×600). See, nothing too fancy or complex.